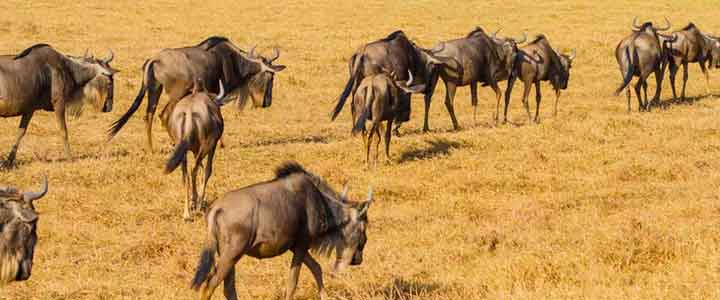 DAY 1:
Arrive Kilimanjaro airport and transfer to Arusha for your dinner and overnight in a hotel.
DAY 2:
Morning breakfast at your hotel in Arusha and drive to Tarangire tented Lodge for your hot lunch, later evening have game drive at Tarangire National Park overnight at the Tented lodge/ Lodge.
DAY 3:
After your morning breakfast depart for your full day game view in picnic lunch at the park and return to the lodge for dinner and overnight.
DAY 4:
Morning breakfast at the lodge and depart for Manyara game viewing picnic at the authentic local lunch ,later afternoon visit the Maasai for the cultural tour and later drive to lake Eyasi Lodge/Tents
DAY 5:
Leaving the Lodge/Tent very early morning and go visiting and experience the hunting with the bushman, return to the lodge late morning for branch, evening enjoy the lake shore walking and sunset Dinner and overnight at the Lodge/ Tent.
DAY 6:
After breakfast at the Lodge/Tent depart to Karatu for the hot lunch later afternoon doing cycling with locals around coffee farms or having hiking at the Elephant caves as well as at the water falls around the Ngorongoro forest with a qualified naturalist. Good birding opportunity.
DAY 7:
Early morning departure after breakfast at the lodge, driving to the Ngorongoro Crater for the full day game drive, picnic at the hippo pool later evening ascending from the crater and drive back to the lodge for Dinner and overnight.
DAY 8:
Breakfast at the Lodge, depart to Serengeti national park, pass Oldupai Gorge, where the first human kind skull was found by Merry Leakey, picnic en route and later evening game drive, dinner and overnight at the Camp/Tented lodge.
DAY 9:
Full day game drive at Serengeti picnicking at any authorized picnic site, dinner and overnight at the camp.
DAY 10:
Another day exploring Serengeti national park in a full day game drive toward north/south part of the Serengeti depends on the migrations movements and the month of traveling. Dinner and Overnight at the Camp.
DAY 11:
Another full day of the game drive exploring different part of the Park with the picnic lunch en route, later evening drive back to the camp. For dinner and overnight.
DAY 12:
After the morning breakfast morning game drive en route with picnic Lunch drive to Karatu – dinner and overnight to the lodge.
DAY 13:
After breakfast driving to Arusha for hot lunch in a hotel, visit Shanga where will see how disabled people doing recycling and get lots of learning and discoveries before we drive to the airport for your flight home.